Growth IQ's aim is to positively impact the lives of business owners, through providing real and relatable business advisory and accounting services.
Accounting and advisory is our core business, but it's integrity and the relationships with our clients that mean everything to our team. We work with our partners through collaboration, mutual respect and honesty. We establish a tailored partnership with our clients and we provide financial clarity to business owners that empowers them to thrive.
Together, our firm brings a plethora of knowledge, expertise, specialised skills, diverse experience, creativity and innovation. So get to know our friendly team of Chartered Accountants, Bookkeepers, Advisors and more.
---
---
Josh Richardson, Founder and Director
Raised in a business focused environment, small business management and financials have always been a way of life for Growth IQ Founder and Director, Josh Richardson. With over a decade of experience as a Chartered Accountant, Josh has extensive experience working with large mid-tier firms, specialising in business consulting and compliance services.
After gaining corporate experience in business ventures of his own, Josh moved into business advisory roles with start up businesses and SMEs, finding he possessed a distinct knack for identifying the financials that make small businesses tick, and providing financial clarity to clients that helped them see the big picture.
With a passionate drive for client relationships and continuous improvement, Josh's vision is to free his business partners from financial stress and enable them to focus on what they do best.
Away from work, Josh loves surfing and adventure sports. A young daughter, son and lovely wife occupy his evenings and weekends, and they enjoy the beach as much as possible. Following many sports, he is a self-avowed Port Power tragic, and proud of it!
---
John Anibaldi, Practice Manager and Advisor
With a broad base of financial, administrative and operational experience, John is a business all-rounder. From his early days in chartered accounting firms, John branched out into various hands-on commercial and operational roles, gaining exposure to numerous franchised systems, as well as business and contractor management within sales and customer service focused organisations.
These ranged from family owned business through to national and multi-national corporates. His business generalist, strategic planning and operational knowledge, together with a keen focus on systems and processes adds another layer to Growth IQ's service offering.
John is a family man, and he and his wife have two young adult sons, meaning that they've regained some quality time. John enjoys the company of friends, getting out and about, as well as pursuing his other passion, classic cars!
---
Alex Terreri, Chartered Accountant
As a qualified Chartered Accountant (CA) with a high level of experience across a variety of business perspectives, Alex loves to crunch numbers – and she's very good at it.
An Adelaide girl, since graduating from Flinders University with a double degree in Law / Commerce, (majoring in Accounting), she practiced as an accountant for several years in South Australia before moving to Cyprus with her partner. summer!
Currently, Alex works remotely for Growth IQ, so when she's not hard at work for her clients, she is enjoying an enviable European lifestyle! Alex will be moving back to Australia soon and we look forward to having her regularly in the office.
---
Lorilyn Reyes, Accountant and Bookkeeper
Lorilyn is an offshore team member working from the sunny Philippines.
A Public Accountant who is Xero Advisor Certified and Xero Payroll Certified, she has gained a strong work ethic and proactive approach to problem solving through many years of experience working with a range of clients.
Outside of work, Lorilyn enjoys spending time with her family. She is also adventurous and loves to go to the beach.
---
Marnia Kremer, Bookkeeper and Social Media Coordinator
You could say that Marnia wears a few hats in the GI office, with her role spread across Office Administration, Bookkeeping, and Social Media Coordination.
Marnia brings a creative spark to our firm and we admire her ability to be a 'Jill of all trades'. Prior to starting at Growth IQ, Marnia was a professional makeup artist and content creator for her personal blog, Little River Love.
Marnia loves photography, keeping fit (she's a regular at F45) and getting outdoors. Outside of work, she can usually be found with her sidekick and her entire world – her adorable son.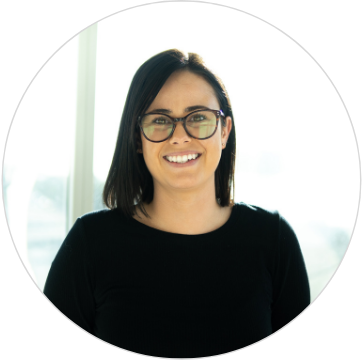 Georgia LeBrun, Bookkeeper and Accounting Manager
Georgia is a bubbly and bright bookkeeping and accountant manager and is here to bring another level of professionalism to the team.
Georgia is as switched on as they come. Client-focused and modern in method, she loves working with Growth IQ's streamlined processes and systems.
Outside of work, she loves leaving all the tech behind and getting back to nature at the beach or camping.
---
---